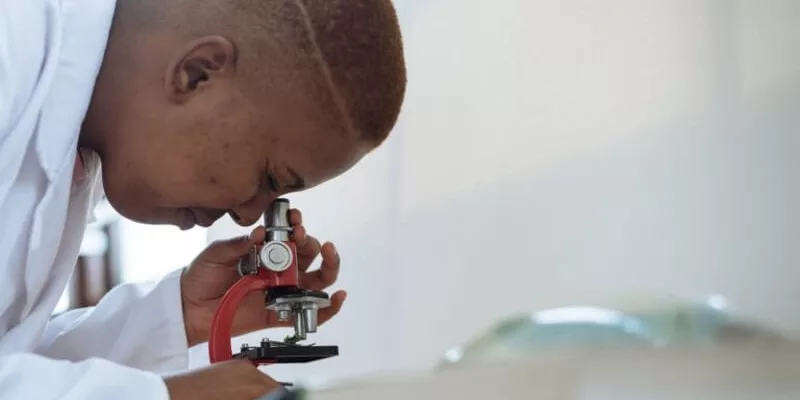 If you are traveling to the UK from Ghana and you'll be staying for more than 6 months, a TB test is one of the requirements for your visa application. To learn all you need to know about applying for a tuberculosis test for UK visa in Ghana, including how much it costs, how to book an appointment, where to get tested amongst other important things, read this article till the end.
Click here to read how to apply for TB test from Zimbabwe.
Which TB test centre is approved for UK Visa in Ghana
I understand that there are many hospitals, clinics or diagnostic centres that can successfully conduct a tuberculosis test in Ghana. However, not all hospitals or clinics in Ghana have the authority to give you a TB test certificate that you can use for your UK visa application.
Below is the list of hospitals for UK TB test in Ghana, their address, contact details and operating hours. To emphasize what I wrote earlier, if you get a TB test certificate from a hospital/ clinic outside of the below listed clinics, it will not be accepted by UK Home Office and your visa application may be rejected.
1.      IOM Health Assessment Centre
Operating hours
Address
Contact details
Monday to Thursday:
8am – 12pmFriday
8am – 10am
No. 22 Odoi Kwao Street
Airport Residential Area
Accra, Ghana
Telephone:

+233 244 335 856
+233 244 337 798

Email:

Websites:
How do I book IOM TB test online?
You can book your IOM for tuberculosis test online by tapping on this link- http://register-uktb.iom.int/uktbdp-register– and following the instructions. The instructions are easy and straightforward.
The first page you'll see when you tap on the link will be this: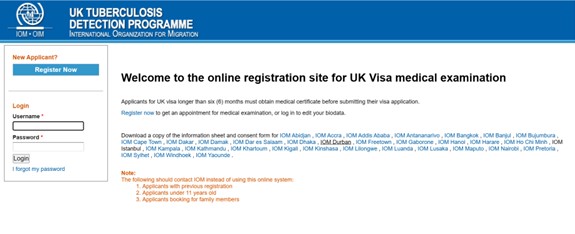 You'll be required to register to start the process or log in to your account, if you have registered before. But please, before booking an appointment for your TB test with IOM online, read the instructions in orange prints to know if it applies to you and act accordingly.
2.      Wellnest Ghana Limited
How to book online with Wellnest Ghana for TB test
Wellnest Ghana also gives people the opportunity to schedule an appointment online. To book an appointment, tap here.
You'll be directed to this page: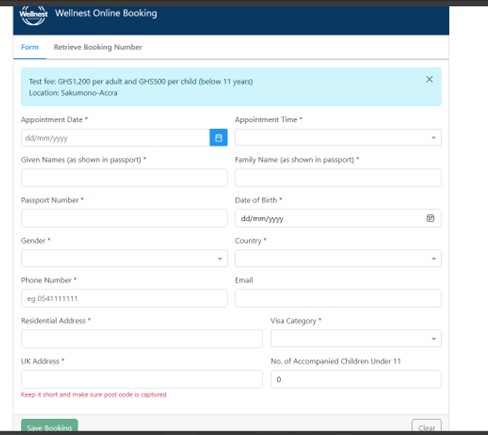 Fill the form and save your booking.
3.      Akai House Clinic
Operating hours
Address
Contact details
Monday to Friday:
8am – 3pmSaturday:
8am – 12 pm
No. 1, Sixth Circular Road Cantonments, Accra.

Telephone:

+233 (0)540 129 880 or

+233 (0)540 126 811

Email:
uktbmedicals@akaihouseclinic.com

Websites:
How much is UK TB test in Ghana?
TB test for UK visa fees differs in each clinic. Also, what adults pay is different from what children below the age of 11 pay.
The table below outlines how much each clinic charges.
| | | | |
| --- | --- | --- | --- |
| Age | IOM Health Assessment Centre | Wellnest Ghana Limited | Akai House Clinic |
| 11 and above | 130 USD | 120 USD | 130 USD |
| Less than 11 | 65 USD | 50 USD | 65 USD |
N.B.: Payments are made in Ghana cedis. At the time of writing this article, $1 = GHC10. You may want to call the clinic or send an email to confirm exactly how much it is when you want to pay for your test if you are not sure of the current exchange rate.
How to pay for your TB test fee
If you'll be using the IOM Health Assessment Centre, you can pay the test fee at the clinic to the Ecobank cashier. Remember you're to pay in cedis. But if you'll be using Wellnest Ghana clinic, you can either:
Pay at the clinic by debit card or
Pay to their Fidelity bank account. Please, ensure you use your international passport number as reference when making payment and go to the clinic with your payment receipt.
Their account details are as follows:
Account name: Wellnest Ghana Limited
Account number: 1050910544616
Branch: Airport
Bank: Fidelity Bank Ghana
Documents required for TB test for UK visa
You may be required to bring some or all of the following documents when going for your TB test appointment. Kindly read through to know which applies to you.
Receipt of payment (if you paid in the bank) or test fees if you have not paid.
Valid photo identification. Preferably your passport, national ID card or Refugee Asylum Seeker Card (if you are applying for asylum).
Two recent passport-sized photographs.
UNHCR/MHA registration documents (this applies to refugee applicants).
Previous screening results, medical notes and x-ray report. This applies to applicants who have had TB or any lung disease in the past.
Valid ID of the guardian- for minor applicants
Akai House Clinic may request for your UK address and Ghana address. Be ready to provide these upon request.
How do I register for TB Test UK?
To register for your TB test, you can:
Contact the clinic via their email or phone number or
Walk into the clinic to book an appointment or
Book online.
When you contact the clinic, clearly state to them that the TB test is for your UK Visa application.
The UK Home Office recommends that applicants booked their appointment at least 10 weeks before their planned travel date. This is to allow for any unexpected circumstances such as further testing (should the result be inconclusive). This usually takes up to 8 weeks.
Personally, I think you should request for an appointment date 3 months ahead of your planned travel date because getting an appointment date can sometimes prove difficult especially between July and October when there are a lot of student applicants. And remember, you'll still need to submit your visa application and wait for a decision.
How is TB test done?
The test procedure differs.
For children less than 11 years…
Their guardian/ parents will be required to fill and submit a health questionnaire with the guidance of the doctor/ clinician. When my nieces and nephew did theirs, the clinician asked their parents questions and filled the form herself.
For pregnant women…
A sputum test is usually recommended because it is safer than x-ray. But the result takes about 8 weeks to be ready and it may cost extra. Alternatively, the clinician may decide to use an x-ray with extra shield if you are in your 2nd or 3rd trimester.
For others…
(By others, I mean people who don't fall into the categories mentioned above) an chest x-ray is carried out.
Read also: How to apply for medical test for Canada visa in India
What people also want to know about applying for tuberculosis test for UK Visa in Ghana
Can I do TB Test before applying for UK Visa?
Yes, you can. In fact, you need to do TB test before applying for UK visa because your TB test certificate is one of the documents you'll need when applying for your UK visa.
Can I apply for visa with expired TB test certificate?
No, you cannot. If your TB Test certificate has expired at the time of applying for visa, you will have to do for another test. I won't even encourage you to try your luck by using an expired test result as your application may be rejected and you'll lose the money you paid for your visa application fees.
Why is TB test mandatory for UK visa?
Because TB is a deadly infectious disease, and if it is not detected and treated early, you put yourself at risk of getting worse and you can infect other people. Not everyone with TB shows signs of sickness. That's why the UK has made it compulsory for people traveling from countries where TB is not uncommon to take the test.
How long is TB Test certificate valid for?
6 months from the date it was issued. But if you have been in close contact with someone who has active pulmonary tuberculosis, your result will be valid for 3 months.
Can you get UK Visa if you have TB?
No, you will not get UK visa if you have TB.
If the doctor discovers you have TB during your screening, you will be referred for treatment and you will not be issued a certificate until you are done with the treatment and another screening has been done to certify that you no longer have TB. The treatment usually takes at least 6 months to complete.
How long does TB test results take?
If you did an x-ray scan and your result shows you do not have TB, you'll get your TB test certificate the same day. But sputum test result takes about 8 weeks.
Applying for Tuberculosis test for UK visa in Ghana is straightforward. What I generally recommend is that you apply early so you get an early appointment, go to the clinic with all the required documents and be punctual for your appointment. I wish you good luck with your visa application.
If you have any questions, you can drop them in the comment section below. If you've found this article helpful, please share it by tapping on any of the social media icons below or copying the link and sharing.