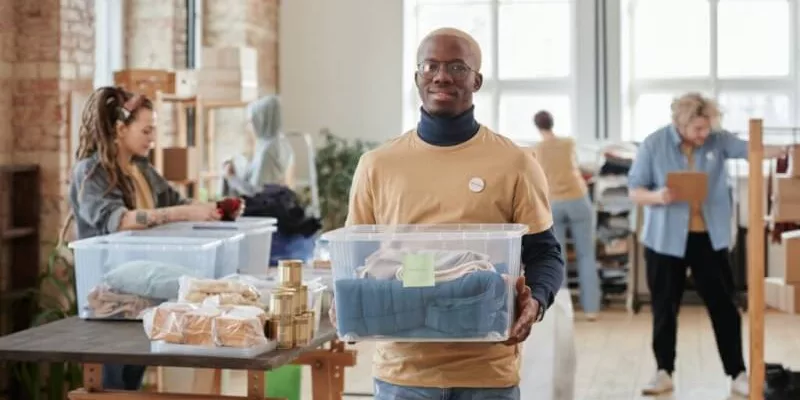 Now you have gotten your visa, congratulations! After the excitement of getting your visa, you may feel confused about how to prepare when coming to the UK from Nigeria. What do you pack? What do you leave behind? How do you find your way to your house/ hotel from the airport? How can you book a hotel/ or short let from Nigeria if you don't have accommodation already? These and many more are questions that may be running through your mind when after you get your visa.
To help you pack the right things, and help you feel less frustrated when trying to settle in when you arrive in the UK from Nigeria, I have written this article. By the time you are done reading this article, you would have an informed idea of things you need to pack when coming to the UK from Nigeria, things you need to do before you leave Nigeria for the UK, and things not to do when you get to the UK.
Let's start with…
Things to pack when coming to the UK from Nigeria
From my experience, below are the things you should bring with you to the UK when coming from Nigeria.
Documents
Travel documents: t

his is a no-brainer, right? You need to travel with your passport, visa and flight tickets. You can't board a plane without these.

Medical record

Bank statement

Bank cards

Cash.

For students, remember your admission/ offer letter and CAS.

When packing, keep your  documents in an accessible bag as you will need to present them at the airport.  
If you have not booked your flight, you could save some money on flight tickets by reading this article: how to book cheap international flights from Nigeria.
Read also: How much is UK visa fee in Nigeria
Clothes and shoes to pack when coming to the UK
Clothes to pack
I know what you have been told about bringing clothes with you when coming to the UK- you've been told to bring just a couple of clothes, as you'll not wear most of them when you come here because the weather conditions are different. I know you've been told that because I got that advice a lot too when I was preparing to come here (to the UK).
Well, from my experience I have a piece of contrary advice. Come with more than 'just a couple of clothes'.
A lot of clothes we wear in Nigeria can be worn here. Your hoodies, jeans, joggers, sweatshirts, Ankara, suits, etc. Even your light clothes can be worn here during summer. However, prioritize your warm clothes over your light clothes when packing, and, to conserve space, don't pack your thick clothes. There are weight limitations on your travel luggage. 
If you have the money, buy jeans trousers before coming. They are cheaper in Nigeria, and (from my observation) they have better quality. I have observed that all the trousers I brought with me from Nigeria have managed to retain their color better than most of the trousers I've bought here. 
But don't buy winter jackets in Nigeria. No matter what the onye oso ahia (the person selling) tells you, the winter jackets sold in Nigeria won't keep you very warm during winter here. However, if you'll be coming during winter buy just one winter jacket from Nigeria. When you come here, get yourself a proper winter jacket.
Shoes to pack
I have a hypothesis- UK grounds are harder than Nigerian grounds. I've observed that any day I wear flat shoes or sandals here, my legs hurt afterward. You'll be better off wearing sneakers and boots here instead of flat/ corporate shoes and sandals. They provide better support and cushion for your feet.
However, footwear to prioritize when packing depends on what your daily life in the UK will involve. You can get an idea of what your daily life in the UK will involve from what you are coming to the UK to do. If you're coming to the UK for studies, you're not mandated to dress corporate. So you can wear sneakers or boots to school every day if you want. 
If you'll be working in an office where you're expected to dress corporate, then you should prioritize your corporate shoes when packing. Otherwise, prioritize your sneakers. When you come here, you'll observe that even in corporate organizations people wear sneakers and boots more often than they wear corporate shoes.
What foodstuff can I take from Nigeria to UK?
You are allowed to travel to the UK with your native foodstuff. So you can bring your dried fish, dried vegetables (ugu, oha, utazi, uziza, etc), dried abacha, egusi, ogbono. Spices like crayfish, ehuru, ogiri, achi, dried pepper, thyme, curry, maggi, jollof spice, mixed spices, ugba, okpei etc.
You can also bring garri, yam flour, semo, beans flour, etc.
Keep in mind that there are restrictions on meat and dairy products. You can read more about food stuff you can/ cannot bring here.
Before packing your foodstuff, ensure they are very dry. Some foodstuffs need to be sunned for weeks to dry out all the moisture in them. Put your foodstuff in zip lock bags so if your bags are searched at the airport, whoever is searching them can easily see through the bag, and won't waste anyone's time opening your foodstuff one by one to see what's inside. 
Most of the foodstuffs we eat in Nigeria are sold in African stores in the UK, and they are not as expensive as you may think they will be. So you don't have to worry about what you'll do when you exhaust your foodstuff. 
Currently, I stay in Sheffield and I shop for African food stuff at Ozmen Extra and the Moor Market. If you want to buy in bulk and at an even cheaper rate, go to Veg Express (you can check online to see pictures of foodstuff you can get here). They sell in bulk only. If buying in wholesale will be a lot for you, go with your friends/ colleagues. 
There are other places you can shop for African foodstuff asides from these 3 places. You can search for them using Google, or ask other Africans when you come here. I've also been to a couple of cities outside Sheffield, and I found African stores there. So wherever you'll be staying in the UK, I strongly believe you'll find an African store to shop from.
Snacks, cereals, and breakfast stuff
Come with some beverages and cereals for breakfast. A dozen of sachets of milk, chocolate, and cereals will do. You don't have to bring much. You can buy them here. I just recommend you bring them, so you can have something to eat/drink before you find out where the stores around where you'll be staying are. 
Wigs
Wigs in Nigeria are less expensive (and probably have more quality) than wigs in the UK. I thought wigs will be less expensive in the UK. But they aren't. The cost of braiding your hair in the UK could also be a great motivation to buy a couple of wigs before coming. Hair braiding in the UK can start from as high as £50. While buying wigs, you can also buy attachments if you think you'll still have space in your bag after packing your essentials. Attachments are sold here too. So, you don't have to prioritize them when packing. 
Cosmetics and toiletries
You are allowed to travel with your cream, perfume, deodorant, and other cosmetics and toiletries. You can either have it with you (hand luggage) or check it in (hold luggage), depending on the size. If it's 100ml or less, you can take it with you on the plane. If it's more than 100ml, you have to add it to your hold luggage. You can read this article to learn about hand luggage restrictions in UK airports. 
Related article: Things to pack when travelling from Nigeria to the USA
More on how to prepare when coming to the UK from Nigeria…
Things you need to do before coming to the UK from Nigeria
Sort your transportation before coming
If you don't have someone coming to pick you up from the airport, book a bus or a train online before coming. You can book a train and a bus via Trainline and National Express respectively. Choose a bus or a train that leaves about 2-3 hours after your estimated time of arrival. You'll need to sort yourself with the UK immigration when you get to the airport and this could take up to an hour or more- depending on the queue you meet.
I advise you to sort your transport before coming so you don't feel frustrated when you come. You can't pay for the bus with cash at the airport. You pay with a card and not all Nigerian cards are accepted here. 
Disclaimer: I don't know if paying for bus fares with cash is declined in all the airports. I used Heathrow airport when I came, and cash wasn't accepted.
Reserve your accommodation
Getting accommodation from outside the UK is challenging. If you are coming as a student, reach out to the accommodations department of your school. However, if you don't have your accommodation sorted out yet, you can reserve accommodation via Booking.com or Airbnb. This is quite expensive and when there's a surge in accommodation demand, the cost of renting a hotel room/ Airbnb accommodation goes up. So, do what you can to get a long-term apartment.
You can see houses available for rent via zoopla.co.uk.  
Make your hair
If you make your hair, make your hair before you come as making hair here is pricey and a lot of hairdressers don't allow customers to haggle their fees.
Convert some naira to pounds
Before you start working/ receive your first salary, you'll need money to pay for things. Not all Nigerian cards work here. So you'll need to exchange some naira for pounds before coming.
Have you ever travelled from Nigeria to the UK? How did you prepare when you did? Are there things you packed you wish you didn't? Are there things you didn't pack you wish you did? Do you have any extra tips on how to prepare when coming to the UK from Nigeria? Please share them with us in the comments section below.
Frequently asked questions
Can Nigerians work in the UK?
Yes, Nigerians can work in the UK. However, note that this depends on the type of visa you hold.
How many luggage can I take to UK?
Most airlines allow two 23kg hold luggage and one carry-on luggage. To be sure of your luggage allowance, check your booking details.
How much cash can I bring into the UK from Nigeria?
You can take as much cash as you want, but if it's up to £10,000, you must declare it to UK customs.