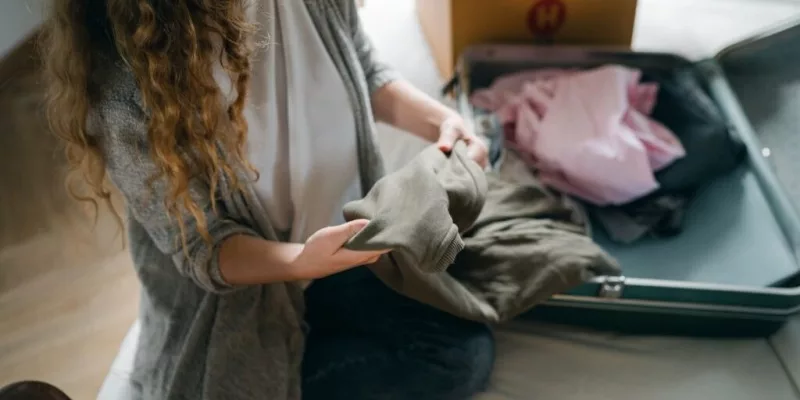 Traveling from Nigeria to Canada is not the same as travelling from one state in Nigeria to another. If you are not well prepared for your travel by packing the right things, you may experience some unnecessary challenges that will affect how easily you settle in your new environment. To prevent this, it is important that you know the essential things to pack when traveling to Canada from Nigeria.
This article serves as a packing list for people looking to travel to Canada from Nigeria. It covers suggestions on food stuff to travel with, clothes, toiletries, documents, medication, etc. It also answers a couple of questions people frequently ask related to packing for their trip to Canada. Let's get into it.
Read also: How to apply and get Canada student visa from Nigeria
What to pack when moving to Canada from Nigeria
To make it easy for you to use this article as a packing list, I have grouped the things you need to pack when traveling in different categories and written about them under different sub-headings.
What food stuff can I take to Canada from Nigeria?
You can get most of the food stuff you use in Nigeria in the African stores in Canada. But as you may have already guessed, it is expensive to shop for African/ Nigerian food stuff in Canada. So come with as much as you can.
But note that not all food items we use in Nigeria are allowed into Canada. For example, chicken and anything containing chicken including chicken spices are not allowed.
The following are food items to take to Canada from Nigeria
Spices and herbs such as ehuru, Cameroun pepper, alligator pepper, suya spice, curry, thyme, iru, maggi, knorr (but not Knorr chicken), achi, crayfish, cloves, ogiri, black pepper, etc.
Palm oil (I'll guide you on how to pack your palm oil shortly)
Dried vegetables such as ugu leaves, oha, uziza, utazi, etc. Please dry your vegetables very well so they can last for long.
Nuts, ex: groundnut, almond nuts, peanut, etc.
Okporoko (stock fish)
Okpa powder
Beans flour
Yam flour
Semovita
Rice
Ugba
Garri
Egusi
Ogbono
Dry fish
Dry snail
Abacha
Pack your foodstuff in transparent bags so airport officials can easily see what you have without having to open them. It will save your time and theirs.
You could come with the following for breakfast:
Pap
Chocolate such as Milo, Bournvita, Ovaltine, etc.
Golden morn
How to pack palm oil for flight travel
Put the oil in a plastic container
Freeze it for days. You want the oil to be in its solid form.
Wrap papers/ carton around it before putting in your bag. Some people also recommend putting it in a thick cloth even after wrapping with paper.
Please check Government of Canada's website to be sure of the foodstuff allowed when packing to travel. They change what's allowed and what's not allowed periodically.
What clothes should I pack for Canada?
The key to packing the right clothes when traveling from Nigeria to Canada is to pack for the season you'll be travelling in and the region in Canada you'll be travelling to. Different regions have different temperatures and the weather in Canada is totally different from whatever you may be used to in Nigeria.
There are four seasons in Canada- Spring (March to May), Summer (June – August/ September), Fall or autumn (September – November) and Winter (December – February/ March). Most of the clothes we wear in Nigeria are suitable for summer and fall, but not winter and spring. So be ready to shop for winter clothes. But don't buy a lot of winter clothes in Nigeria. You'll get something better in Canada. Just buy two/ three of each type of winter cloth you'll find in the list below in Nigeria.
Clothes to bring to Canada
Jeans
T-shirt
Leggings
Trousers
Track pants
Thermal wears (very important!)
Sweater/ cardigan/ hoodie
Native wears (you can wear this during summer and fall)
Winter accessories like gloves, scarves, hats, thermal socks, beanies
Layering essentials: long-sleeved shirts, leggings, and thermal under wears
Suits (if you have already. You don't have to buy if you don't have- except you want to)
One or two winter jackets. The winter jackets sold in Nigeria can't fight Canada's cold. So just buy one winter jacket in Nigeria and save your money for buying something better when you get to Canada.
If you are in Lagos, you can shop for most of these items at Yaba.
Footwear to bring to Canada
You need footwears with good traction because snow makes the ground wet and slippery.
Sneakers- for all seasons
Slippers (for indoor use)
Winter boot (if you don't have this already, do not buy it in Nigeria. Buy it in Canada instead)
You can come with your flat shoes, sandals, slides, etc. for summer.
I'll advice you to prioritize clothes that can keep you warm when packing- even if you are coming during summer or fall- because cold is a constant phenomenon in the Great White North.
Documents to pack
Visa
Passport
Immunization cards
Medical records/ reports
Confirmation of permanent residence (COPR) document
Travel insurance (you won't need this if you are on visitor or permanent residence visa)
Car insurance records: this will help reduce insurance cost especially if it's 5 years+
Driver's licence
If you are on PR visa, you can use your Nigerian driver's licence to drive and it's valid for the first 90 days of your arrival. After 90 days, you will be required to change to a Canadian driver's licence. But if you are on visitor's visa, it's best to come with both your driver's licence and an International Driver's Permit (IDP).
School transcripts and certificate
If you are on a PR visa, it is recommendable to do a course-by-course evaluation on W.E.S. This way, even if you decide to study in future, you won't go through the hassle of trying to contact your school in Nigeria to send your transcript to the school you are applying to in Canada.
In summary, travel with all your vital documents. You may not need all of them, but it's better to have them in case you do.
Can I drive with my Nigerian license in Ontario?
Yes. If you'll be visiting Ontario for less than 3 months, you can.
Cosmetics and toiletries
You can put your cosmetics and toiletries in your carry-on luggage.
Soap
Cream
Sanitary pads
Lip balm
Toothbrush
Toothpaste
Deodorant
Body spray
Perfume
Eye pencil
Edge control
Can I bring toiletries in my carry-on in Canada?
Yes, you can. However, all liquids and aerosols should be in containers of 100ml (3.4 oz) or less and should fit into one resealable bag- like a ziplock bag. They shouldn't be more than 1L in total.
Medication
Vitamin D supplements.
Due to limited exposure to sunlight (which is a major source of Vitamin D), you'll need vitamin D supplements to prevent vitamin D deficiency.
Prescribed medication
If your doctor has prescribed some medicines for you, please come with them. If it's a medication you have to take for an extended period, come with enough that will last for a maximum of 90 days.
Balm
Ex: Aboniki balm- to help with the cold and body pain you may experience due to the weather.
Shea butter/ coconut oil
Some people use shea butter or coconut oil as balm or moisturizer. You can bring those too. If you'll bring coconut oil, make sure it is frozen.
How do I carry medicine to Canada?
Leave your medicines in their original, labelled containers and put them in your carry-on luggage.
Coming with prescribed medication? Make sure you have the original prescription note with you.
Come with a doctor's note that explains why you need the medication.
Other things to pack when traveling from Nigeria to Canada
Some cash (CAD or USD)
Clipper
Wigs
Hair making in Canada is expensive. You can save some money by wearing wigs. If you don't have wigs already, consider buying one/ two wigs if you can afford to.
Attachments
You will find hair extensions in Canada, but you could save some money by coming with some from Nigeria.
Bank cards and token
Some Nigerian bank cards can be used internationally. Before traveling, please ensure that your bank mobile apps are working. You'll still need it for transactions. Also, establish a relationship with your account officer if you don't have a relationship with the person already. You may need him/ her if you experience any challenges with your account while in Canada.
Bedding
Towel
Charger *
Camera *
Laptop *
Your Nigerian sim cardPlease speak to your network provider before traveling if you want to retain your number in case there's anything you ought to do to retain it. You may still need your sim card to receive SMS.
* Put these in your carry-on bag.
Download: Packing list for students going to Canada pdf
What is not allowed to bring to Canada?
You are not allowed to bring the following food to Canada
Chicken and its by-products, including chicken spices
Except infant milk and prescribed milk, you are not allowed to bring milk into Canada without a permit
Firearms, fireworks, and ammunitions (of course ????)
Please check the Canada Border Service Agency's website for full details of what you are not allowed to bring into Canada.
Related article: Things to take to UK from Nigeria
Frequently asked questions on how to prepare when traveling from Nigeria to Canada
How many kgs can I carry to Canada?
You should check with the airline you will use to confirm how much kg you are allowed. For most airlines the maximum weight allowance is 23kg for economy and 32kg for business class per bag.
What happens if your luggage is over 23kg?
If your luggage is over 23kg, you either remove some things from it or pay for excess luggage. To avoid going to the airport with excess luggage, buy a scale and weigh your bag while packing so you can remove the excess at home.
I'll also advise you to use a lightweight traveling bag. Some boxes are heavy and eat into the kg you should have used to pack other things.
What is not allowed in carry-on luggage in Canada?
Liquids, gels and aerosols more than 100ml
Sharp objects like knives, scissors, etc.
Sporting equipment
Can I pack food in my checked baggage to Canada?
Yes, you can. But not all types of foods are permitted + liquid foods like honey, yogurt, gravy, sauce, etc, have to abide by the 100ml/ 3.4 oz requirement.
What food items are not allowed into Canada from Nigeria?
Meat and dairy products, eg: milk, are not allowed.
Conclusion
A lot of things you use in Nigeria can be used in Canada. That's why it is common to find people who ship their things from Nigeria to Canada- especially people travelling as a family. It could be cost intensive to buy everything you need in Canada from scratch- so consider shipping some of your properties and traveling with just the things you'll need to survive whilst waiting for your cargo to arrive.
But before choosing to ship, consider the cost. Compare if it's cheaper to buy things when you get to Canada or if it'll be cheaper to ship your things. This will largely depend on what you are shipping. If you'll be traveling with electrical appliances, you should know that electrical appliances used in a country are configured to the standard voltage and frequency of that country. The standard voltage and frequency in Nigeria are 230V and 50 Hz respectively, while that of Canada is 120 V and 60 Hz. So, before you can use the electrical appliances you bring from Nigeria to Canada, you will need a voltage transformer.
Got questions related to things to pack when traveling from Nigeria to Canada? Ask in the comments sections below. If you've found this article useful, please share.