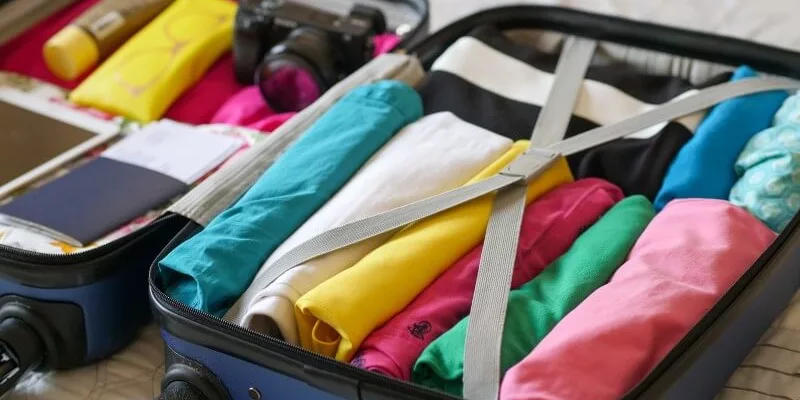 If you are travelling to America for the first time, chances are high that you may not know what to pack when travelling from Nigeria to the USA. If this is the case, don't get worried. In this guide, I will discuss all the essential things you need to pack for your trip- ranging from documents, to clothes, food stuff, toiletries, and electronic devices. I also share some advice I suggest you should keep in mind when packing. 
Whether you are travelling for business, studies, tourism or to visit family, I trust you will find this guide helpful. 
What documents do I need to travel from Nigeria to USA?
Passport

US visa

Documents you submitted during your visa application process

Documents you received from the embassy

Proof of funds- bank statement

Flight itinerary

Hotel reservation (if applicable)

Medical record
What food items are allowed to carry to USA from Nigeria
It is important to pack some food stuff when travelling to the US from Nigeria. But while packing, keep in mind that not all food items are allowed into the US. The following are some food items you can pack when travelling to the USA from Nigeria.
Garri

Egusi, ogbono

Dried breadfruit (ukwa)

Beans (ensure it is weevil-free)

Palm oil (

how to pack your palm oil

)

Stockfish, dried fish, dried shrimp (

oporo

)

Beans flour, plantain flour, yam flour, wheat flour, corn flour

Seasonings like knorr, maggi, mixed spices, curry, thyme, dried iru (locust beans), dried pepper, garlic, ginger, turmeric, dried crayfish, uziza seed, udah, ogiri, ofo, dried isam (periwinkle). 

Snacks like kuli kuli, plantain chips, groundnut, chocolate, candy, biscuit.

Dried vegetables like ugu, bitterleaf, utazi, uziza, scent leaf, oha. 

Things for breakfast like, tea, honey, bread, cereals.
There are African stores in the US and you will be able to get all these items there. But it's usually advisable to travel with some when going because it will save you some money and you will need some time to settle down before you start shopping.
According to the US Customs and Border Protection (CBP), meat is a prohibited item. However, fish and other sea food are allowed. So kpomo, chicken, kilishi, beef, goat meat, etc are not allowed. Even meat-based seasonings like knorr chicken are prohibited. 
I know you may have heard people say that they took meat to the USA from Nigeria. People do. The reason most people get away with travelling with meat is because they seldom check people's luggage at the point of entry. If the CBP officials check your bag and find meat, it will be seized and you will be made to pay a fine.
Electronic devices and accessories
Remember to pack your gadgets and accessories like charger, phone, laptop, tablet, camera, power bank, adapter and voltage converter. 
Electrical outlets in America use type A and type B plugs and their electrical supply runs at 120V and 60Hz. While Nigeria uses type D and G plugs with an electrical supply that runs at 230V and 50Hz. That's why you need an adapter and voltage converter.
Clothes to pack
You can use a lot of the clothes you wear in Nigeria in the US as well. So do well to pack your:
Underwear, trousers, tops, shirts, shorts, skirts, leggings, sweaters, suits, lappa, native wear, swimwear, towel, etc. If your towel is thick, pack a small towel instead. 

Household linen like bedspread and pillowcase.

Foot wears: slippers, flip flops, sneakers, sandals, etc.

Jewellery and accessories: earrings, necklaces, bangles, belts, hats, scarves, sunglasses, etc.

Winter accessories like socks, scarves, beanies, ear warmer, etc. 
If you are coming during winter, you can buy a winter jacket. But keep in mind that any winter jacket you get in Nigeria will barely keep you warm in the US. You would have to buy another when you get here. You can shop for inexpensive winter jackets in stores like TK Maxx, Primark and Goodwill when you get to America.  
Cosmetics and toiletries
Body lotion

Hair cream

Sanitary pad

Aboniki balm

Shea butter

Make up items

Perfume, deodorant, body mist

Shampoo and conditioner, etc.
Things to put in your carry-on luggage
Your carry-on luggage is that small luggage that you will be allowed to board the plane with. I suggest you put the following items in it when packing.
Documents

Any item you cannot afford to lose, ex: money, bank cards, expensive jewellery, etc

Electronic devices and accessories

Medication

Toiletries
Toiletries in liquid, gel and aerosol form should be in 100ml/ 3.4oz containers or less and should all be put in a resealable, clear bag. Cumulatively, they should not be more than 1 litre. 
The reasons I recommend putting these items in your carry on luggage are:
So they are accessible

Though unusual, it is possible for one's hold luggage to get missing or delayed. If any of these happen it will be good to have your most important items with you.

You cannot guarantee how your hold luggage will be handled. If you leave your gadgets, jewellery, etc. in it, they may get damaged due to rough handling.
Related article: What to pack when relocating from Nigeria to UK
Questions people also ask
How much dollars can I carry from Nigeria to USA?
You can travel with as much money as you want, but if it is up to $10,000- whether in cash or any other monetary instrument, then you have to declare it at customs.
Can I pack food in my suitcase to USA?
Yes, you can. Your solid food items can go in both your check-in and carry-on luggage. But liquid and gel food items over 3.4oz should go into your checked bags. 
Can I send food from Nigeria to USA?
Yes, you can. You can use shipping and international courier companies. 
How many bags are allowed in flight to USA?
Most airlines allow only 1 in-flight bag. Your luggage allowance will be written on your flight ticket as well.
General advice and final suggestions
Remember you have a limited luggage allowance when packing.

Considering your luggage allowance, I suggest you use light weight boxes/ bags

Pack your food items in a clear ziplock bag and label them so when your bags are being checked at the airport, you can identify the food items you are carrying easily. 
Do you have any questions related to what to pack when travelling from Nigeria to USA? You can ask in the comment section below.