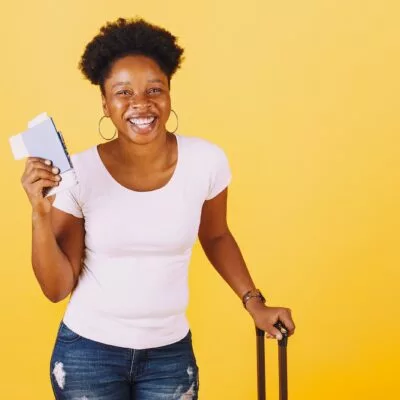 Your Nigerian passport is an essential document. It is important that it is up to date even if you do not have any international trips planned because you may need it as a means of identification. If you are in the UK, you do not have to travel back to Nigeria to renew your passport when it is about to expire. You can renew it here. I discussed with a couple of people who recently renewed theirs and below is the step-by-step process on how to renew your Nigerian passport in the UK that they shared with me.
How do I renew my expired Nigerian passport in the UK?
On the home page, you'll see 'Immigrations'. Tap on Immigrations then select e-passport from the drop-down list.
Doing this will redirect you to a page where you'll see the list of documents required to re-issue standard passport. Read through the list so you are sure you have all the required documents before proceeding to apply.
Next, click on the link at the bottom of the list: https://passportintl.immigration.gov.ng/.
Clicking it takes you to the Nigerian Immigration website to begin your application. See below.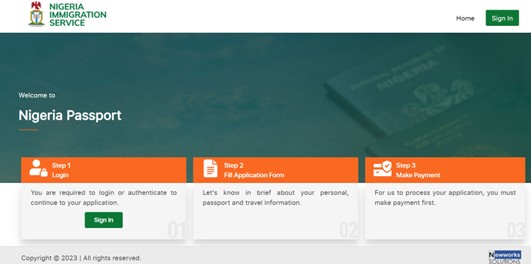 Once there, you'll be prompted to sign in to the portal.
If you don't have an account already, that's fine. Tap on sign in, then on the sign in page, tap on "Sign up using OpenID".
After signing in, fill and submit your application form. Then print a copy of the completed form.
After submitting your form, you will get an application ID and reference number (check for these in your email). You'll need them to book an appointment for your biometrics.
Click continue application.
Make payment.
Once your payment goes through, you'll see a message acknowledging that your payment was successful and prompting you to print passport acknowledgement and passport payment slips.
Return to the Nigeria High Commission UK website to book appointment for your biometrics and documents submission. You'll be asked to provide your application ID and reference number.
N.B.: The Nigerian Embassy in the UK is in London. If you don't live in London, you'll have to travel to London for your appointment.
Related article: How to apply for Nigerian passport (in Nigeria).
What documents do I need to renew my Nigerian passport in UK?
Original copy of your current Nigerian passport
Dated and signed print out of your completed passport application form.
A copy of your National Identification Number (NIN).
Your NIN must match the information on your passport in the correct sequence.
Evidence of your scheduled appointment
£20 postal order made payable to the Nigerian High Commission, London.
Please also go with a stamp Royal Mail C4 special delivery envelope so your passport can be mailed back to you.
In addition to the above, applicants under 18 need the following:
Long birth certificate
Copies of the Data Page from BOTH parents' passports if their names appear on the Long Birth Certificate.
N.B.: At least, one parent must hold a Nigerian Passport.
Consent letter signed by both parents. If either parent's consent or documents are missing, court proof of sole custody is required.
In case of a Nigerian parent's passing, a Death Certificate copy is required.
Change of name can also be done, but it has to be as a result of marriage or divorce. The following documents will be required to process that:
Marriage certificate
Letter of consent signed by the husband
Husband's passport data page
In the case of divorce:
Divorce certificate
Proof of maiden name- the passport you had before you got married or any other valid ID that has your maiden name can be used for this.
How long does it take to renew a Nigerian passport in the UK?
There is no fixed time frame. After your appointment at the High Commission, you will be given a document that contains your biodata and a date you can expect to receive your passport. The wait time varies for different applicants. I cannot say why for sure- it probably depends on the number of applications they have to process at the time.
A couple of people I spoke with while writing this article said they got their passport a few weeks after the date they were told to expect it. I'd advice you to apply for your passport renewal early- at least 6 months before it's due to expire- in case there's an unexpected delay while processing it.
Nigerian passport renewal fee UK
There isn't a uniform fee for passport renewal. The fee depends on different factors such as pages, years of validity, reason for renewal (did it expire? was it lost or stolen? etc.), age of applicant and passport type (standard, diplomatic or official).
| | | |
| --- | --- | --- |
| Pages | Years of validity | Fee ($) |
| 64 | 10 | 230 |
| 64 | 5 | 150 |
| 32 | 5 | 130 |
You can pay using your £ card.
Nigerian passport renewal UK contact details
Number:
+(44) 207 839 12
440207 839 1244
Whatsapp number: +447398822482
Address:
9, Northumberland Avenue, London WC2N 55BX.
Email:
You can send a mail by filling the form on their contact page.
Questions people also ask
How to book appointment for Nigerian passport UK
To schedule an appointment, tap on this link: Nigeria Immigration Services | My Appointment. It will take you directly to the Nigeria High Commission website page where you can book an appointment after providing an application ID and reference number.
Can I travel to Nigeria from UK with an expired Nigerian Passport?
Yes, you can.
Can I renew my expired Nigerian passport online?
You will be required to start your passport renewal process online. However, you must go to the Nigeria High Commission office in London to complete the process.
Do I need my birth certificate to renew my passport?
If you are under 18, yes, you do. Otherwise, you don't need it.
Do I need NIN to renew my Nigerian passport
Yes, you do.