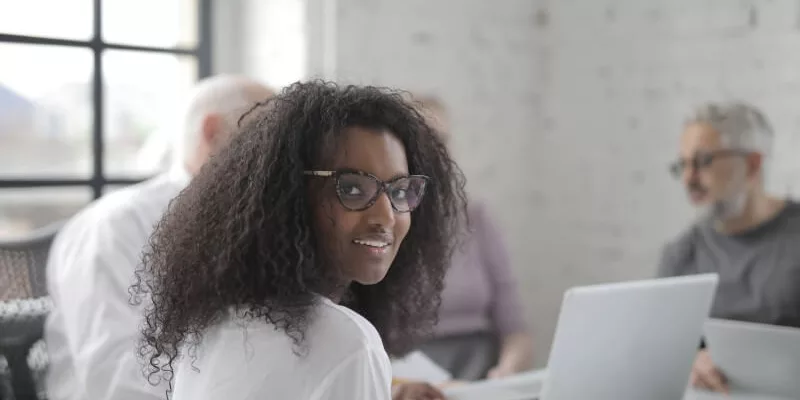 My search for an overseas scholarship started in 2020. I experienced a series of  rejections and hot breakfasts before I finally won the University of Cambridge Mastercard Foundation Scholarship 3 years later (2023). Because I know how daunting searching and applying for scholarships is, I am happy to share my experience on how to get a Mastercard Foundation scholarship in hopes that you pick a couple of things that will help you secure the scholarship for yourself as well.
How to apply for the Mastercard Foundation Scholarship at the University of Cambridge
Mastercard Foundation has partnered with different schools for their scholarship programs and  the University of Cambridge is one of those schools. I came across the scholarship by scouting through the University of Cambridge's website. The university's course application website has a "Funding search" option that allows you to find eligible scholarships from the application portal using your nationality. From there you can get the Mastercard Foundation funding alongside other awards available to your country. 
But Mastercard Foundation has now set up its website where you can apply directly from. You can access the website by tapping here.
Applying for a Mastercard scholarship is simple. The scholarship application is integrated into your course application process, so it does not involve many stages. To apply for the Mastercard Foundation Scholarship at the University of Cambridge, these are the steps to follow.
Apply for a LLM, MAST, MED, MPhil, MR'ES, or one of the MPhil courses available on the

University of Cambridge website. 
You will be required to submit some documents and write a 250-word essay as part of your application process. The department automatically sends the names of people who get admission and are eligible for the scholarship to Mastercard. 
2. When Mastercard receives your details, you will be contacted for further screening.
This screening involves essay writing. To win the scholarship, your essays must be compelling.
Read the tips I shared on how I wrote my essays here: How to write a Mastercard scholarship essay.
Who is eligible for a Mastercard scholarship?
To apply for and win the Mastercard Foundation Scholarship, You must:
Be a Citizen and resident in one of the African countries.

Demonstrate academic excellence and leadership

Demonstrate your desire and commitment towards fostering sustainability and climate resilience in Africa.

Have the necessary application documents.
Requirements for Mastercard scholarship
The only document required for the Mastercard Foundation Scholarship is a personal statement. The foundation may send out more essay questions to students who passed the first screening process- which is gaining admission to study one of the eligible courses at Cambridge. 
However, when applying to the University of Cambridge, you will need the following documents: 
Academic Transcript 

Academic certificate (optional)

International Passport 

Personal statement

English test Proficiency.
The University of Cambridge also offers language assessment for students from A and B list countries. Please tap here to see the countries under both categories.
Read also: How to apply for your Nigerian passport.
Questions people also ask 
Are there specific programs the scholarship covers?
MPhil, LLM, MAST, MED or MR'ES programme focusing on Sustainability and climate resilience.
Are there any sponsored visas for this scholarship?
Yes!
How long is the Mastercard scholarship for?
9- 12 Months, depending on the duration of your course. The longest MPhil courses in Cambridge are usually 12 months.
Which aspect of the essay(s) do you think will give someone a competitive edge? 
All aspects of the essays including the personal statement for course application and the statement for Mastercard application. Some departments require a statement of research interest/experience and research proposal.
What does Mastercard scholarship cover
The foundation offers a fully funded scholarship that covers tuition fees and maintenance fees which come in the form of stipends, visa fees and UK immigration health surcharge, TB test fees, and flight tickets to the UK. The foundation also provides a MacBook for students or any other Laptop that meets Cambridge requirements. Another good thing about the foundation is that they cover the application fee (£50) for applying to Cambridge. 
There are two options for obtaining the application fee. 
The first option is to seek an application fee waiver from the foundation while making your application. (There is a Google form from the application portal that allows you to do so.)

The second option is to pay the application fee and apply for reimbursement after you have gotten the Scholarship and have started school at Cambridge
How much is the Mastercard scholarship worth?
The worth of the scholarship is not the same for all students. It is a fully funded scholarship therefore it covers Cambridge tuition fees which vary each year and according to course. However, the stipend is worth £20,000 for 12 months Masters courses and pro-rated for courses lasting less than 12 months.
What is the Mastercard Scholarship at Cambridge?
The Mastercard Foundation Scholarship at the University of Cambridge, UK, is for underrepresented people in Africa and it supports students coming to study an MPhil, LLM, MAST, MED, or MR'ES program at Cambridge from any region of Africa. 
However, more priority is given to women, internally displaced individuals, and people with disabilities.  An important thing to note is that the Mastercard Foundation is focused on fostering Sustainability and Climate Resilience in Africa. You can apply to Arts and Humanities, Social Sciences, and Stem but your interest must align with promoting Sustainability and Climate Resilience in Africa.
Which has a competitive edge between academics and professional experience?
Both academic and professional experience matter. However, if your academic background is poor, the professional experience can be used to make up for it, and vice-versa. This is where the essays come in. 
The personal statement addresses both academic and professional experiences and should be able to highlight your strengths and demonstrate what gives you the competitive advantage over other applicants.
What's the English requirement?
English requirements vary across courses. So check out your course requirements and ensure you meet their minimum score for all categories (Speaking, reading, listening, and writing). 
Applications can also be submitted without an English test. In such a case, you will be offered a conditional admission that will require you to take and submit an English test before your offer can be confirmed by the Postgraduate school. 
However, those applying for Master of Law (LLM) and Master of Corporate Law (MCL) must submit the English test alongside their application.
What is the importance of Mastercard scholarship
There are so many benefits to the Mastercard scholarship at Cambridge. These stand out for me:
You get the opportunity to study at one of the best schools in the world with all your expenses paid for.

You meet and network with other outstanding students of the Mastercard Foundation scholarship from all over the African continent.

The University of Cambridge is a diverse academic community with intellectuals from all over the world with whom you can network, and learn from.

Paid Leadership training from the Cambridge Institute for Sustainability Leadership (CISL).

The foundation supports students going for postgraduate internships at any of the African countries (Flight tickets with £1000 monthly support for up to 6 months)

The opportunity to join the Mastercard Foundation Alumni network of scholars and beneficiaries from different Mastercard sponsored programs. 

Finally you get to apply and access post study grants available to all Mastercard Alumni. 
Conclusion:
The process for applying and getting the Mastercard Foundation Scholarship is easy and straightforward. All you need is a prepared mind, well-tailored essays, academic credentials, and relevant experience(s) in your academic field of interest. 
I wish you the best in your application!