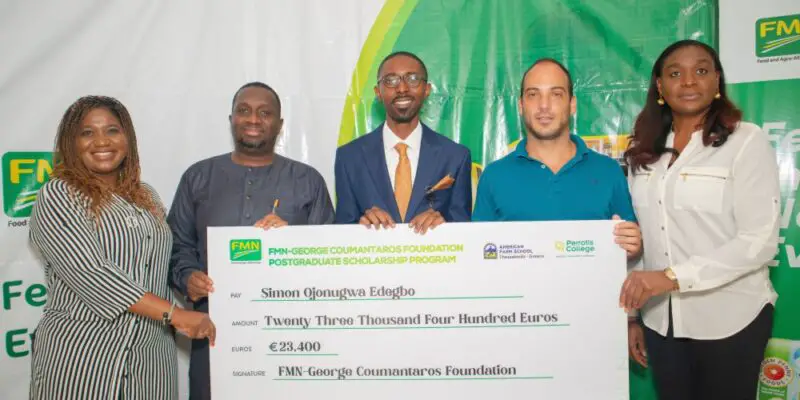 Hi, I'm Simon Edegbo, an MSc scholar at Perrotis College, Greece (Cardiff Metropolitan University), under the 2022 Flour Mills of Nigeria – George Coumantaros Foundation Scholarship program and I'm delighted to share with you practical insights on how I got the scholarship to study Sustainable Agriculture and Management.
Until May 2022, the idea of pursuing an MSc. degree, especially in Agriculture, had never crossed my mind. This was partly because in the previous year, I completed a course in Executive Agribusiness Management in the prestigious Lagos Business School (LBS) and I believed I was off to a great career start in the industry
However, two events changed my trajectory:
1. An impactful encounter with an industry leader during my program at LBS (she served as the Group Sustainability Manager of one of West Africa's largest Agri-food multinationals). 
Prior to my meeting her, I had never heard of sustainability as a job function or role in Agriculture, yet, it immediately ignited a genuine curiosity within me to explore the importance and potential rewards of this emerging field. This curiosity soon blossomed into a deep passion. 
2. The second pivotal event took place in May 2022.
My then-employer, a global Agri-food trade start-up based in Southeast Asia, made the difficult decision to shut down its operations in Nigeria, along with the entire team. This compelled me to think critically and seek counsel on my next steps.
Fast forward to two weeks after the company shut down operations, I decided to explore further education in sustainability outside Nigeria. With no clear idea of where to go or how much it would cost, I dived into research. Simultaneously, I applied for a number of jobs to stay productive while my search for educational opportunities continued and thankfully received 7 amazing offers in less than 2 months. 
Within this period, I shared my decision to pursue higher education in sustainability with a friend. Just a few days later, that friend shared a game-changing piece of information with me: an advertisement calling for applications to the maiden cohort of the Flour Mills of Nigeria (FMN) – George Coumantaros Foundation (GCF) scholarship program, and I applied. 
After a challenging two-month process involving four (4) rigorous screening stages, I was chosen as one of the two recipients of a fully funded MSc scholarship in Sustainable Agriculture and Management out of over 1000 applicants. This was in August 2022- just 3 months after I made the decision to explore sustainability in Agriculture. I was super pumped!
What is the Flour Mills of Nigeria- George Coumantaros Foundation Scholarship?
The FMN-GCF postgraduate (MSc.) scholarship is a 2-year program awarded to 2 successful candidates. It includes a 2-year internship at Flour Mills of Nigeria's Innovation, Food Sector, or Agro-Allied division, where the recipients will engage in project-specific tasks under mentorship.
Courses the scholarship covers: 
     

New Food Product and Business Development

     

Marketing for the Agro Food Sector

     

Sustainable Agriculture and management
Eligibility Criteria
First degree certificate and transcript from a Nigerian public university

2 referral letters from credible and verifiable persons

Screening
Selection/screening process
The screening process involved the following stages:
1. Document review
The initial stage of the selection process was based on the submission of complete documents. Applicants had a window of approximately 2 weeks to submit the required documents.
After the submission deadline, I received an email confirming that my application met all the requirements. This meant that I was advancing to the second stage.
2. Online test
The test was quite comprehensive and challenging. It covered a wide range of topics- from the history and business operations of the FMN group to current affairs, quantitative aptitude, and agriculture-related questions, among others.
What added to the challenge was the time we were required to provide answers to the relatively difficult questions. I had to tackle 55 questions in just 20 minutes, ensuring that I attempted all questions and clicked the "SUBMIT" icon to successfully complete the test. It was an intense experience, but I managed to pass this stage as well.
3. Apply to the university
The next step was to submit an application on the website of the institution, Perrotis College in Greece. This application was subject to the scrutiny of the university's admissions team/ board.
4. Interview
Upon meeting all the requirements for the previous stage, I was scheduled for an interview with members of the scholarship team.
The interview lasted for about 15 minutes and I was asked about myself, my motivation for applying, my career plans for the next five years, and my insights regarding critical areas in Nigeria's agriculture sector that could benefit from the practical application of knowledge gained from the course. It would have been an amazing experience except for unexpected internet connection glitches, but I was able to reconnect and provide concise responses.
At that point, I honestly thought I had missed my opportunity due to the 'Nigerian factor'. However, approximately two weeks later, I received a congratulatory email and documents, informing me that I was one of the two successful candidates. 
The official scholarship award event ceremony took place about a month later, in September, at the Group Headquarters in Apapa, Nigeria.
5. Visa application
We initiated contact with the embassy of Greece through email to confirm the necessary requirements and schedule an appointment. After successfully submitting the required documents and undergoing biometric data capture on the scheduled day, we (myself and the other person that received the scholarship) received our visas a week later.
Read also: How to get a scholarship to study in the US from Nigeria.
Tips that helped me
Recollecting this entire experience has made me re-appreciate the effort and the journey that has brought me to this point. So if you're wondering what happened behind the scenes that gave me an edge, here are my top 3 tips.
1. I set a clear goal
Without a clear goal of what you want, you won't be able to identify what opportunities are right or wrong (for you). Your ability to clearly identify and articulate your goals gives you a strong edge over many others. In my case, it brought me needed help from friends.
But don't wait, like I did, till a situation forces you to act towards your goal. Be proactive. Review your life periodically to revalidate or refine your goals. When writing your goals, use the SMART model.
2. I prepared
Opportunities abound guys! But will you be ready when it comes? 
Do you have a valid passport? What about your certificates, transcripts, motivation or reference letters? Are they polished and ready to be dispatched at a moment's notice? 
Have you taken the time to thoroughly research the visa requirements for your dream destination country? Do you have a financial safety net in place to cover any unexpected fees that might arise? Don't wish for luck, pay the price of preparation and watch your life soar.
(If you're in need of application samples to steer you in the right direction, don't hesitate to reach out.)
3. I leveraged my network
Your network is truly your net-worth. 
Share your goals with supportive friends, mentors and family. Your next opportunity is in someone's chat box or email address waiting for you to speak up and claim it. So leverage your existing relationships.
Another advice I'll give you similar to the above is this: spread your tentacles beyond your current circle. 
What do I mean?
If you are the first person in your family or amongst your friends to tread this path (of applying for a scholarship or achieving something similar), then you may not be able to get all the resources or answers you need from your existing network.
You'll need to harness the power of your will and technology to smash any barriers that may arise. Leverage online connections, groups, platforms and resources. You will be amazed at how willing strangers are to help you. 
I applied this advice when I wanted to secure my certificate, transcript, reference letters and visa appointment date and I'm grateful for those who lavishly offered to help me, as their help was crucial towards making my goal successful.
Questions people also ask
What does this Scholarship cover?
Everything- tuition, airfare, visa application fee, accommodation, feeding and stipends.
How long does Greece student visa processing take?
One week.
The major challenge you may experience is securing an appointment. You can write to your academic institution or sponsor for help. After that, the time frame between your appointment and approval is typically 1 week.
Do I need IELTS/TOEFL for studies in Greece?
For my school and program, I didn't need any test of English certificate. I only needed to prove that my undergraduate degree was taught in English. 
Many thanks to Simon Edegbo for being kind enough to share his scholarship story.
Do you have any questions related to applying for the Flour Mills of Nigeria- George Coumantaros Foundation Scholarship or Greek student visa in Nigeria? You are welcome to ask in the comment section below.