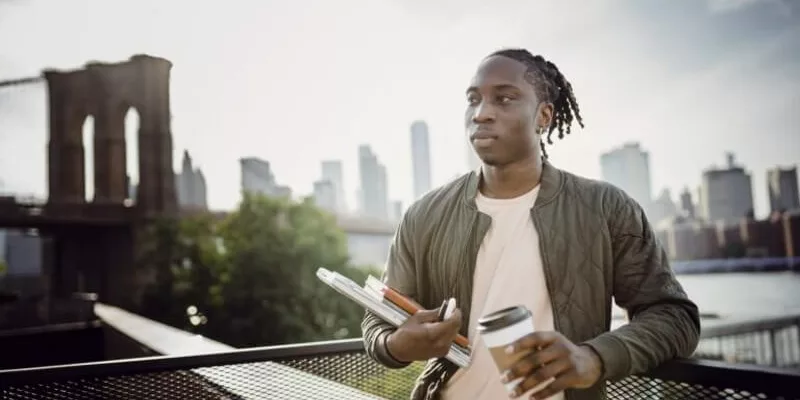 Migrating provides different experiences for different people depending on their circumstances. There are those who come in via the student route and those who come in through work route. There are those who come as a family, and those who come with dependents, and then there's this writer who came in as a student, single and alone as Adam the day he was created. Right from the immigration queue at Heathrow I did not even know how to spell Portsmouth much less what to expect. But it has been a year now, and if someone as clueless as me could survive this long, so can you. So, let's begin the journey to living in Portsmouth as a Nigerian student.
What's Portsmouth famous for?
The city of Portsmouth is home to His Majesty's Royal Navy, and that is what it is most famous for. Portsmouth has everything you would expect from a seaside town including a very rich history, a beautiful beach, and ridiculous bills. But it's not all doom and gloom, it also has a rich international community making it a diverse city.
Is Portsmouth a good place to live for students?
Living in Portsmouth as a Nigerian student has its pros and cons. Mostly cons, but the pros still exist. For one thing you have the option of confidently requesting for a student discount every where you go. From the barber shop to the local pubs, if there's a cashier, whip out that student card and ask for a student discount. Can't shame the shameless. You are a student and at the very bottom of the financial food chain. Remember this when you finally get that beautiful contactless card your bank will happily give you so you can tap your way into poverty. Chill, you will not be the first. But first you must obtain your Biometric Residence Permit (BRP).
Getting your BRP
In most cases, schools advise that you put their post code as your BRP collection point. While it is usually the simplest option especially if you don't know any postcodes yet, you will be required to have paid, at least, 50% of your tuition before you will be issued your BRP. Without your BRP you can as well be a guest in the UK because you will not be able to get a National Insurance Number (NIN) or a job.
An alternative is to find a local post office in the city- there are many. A quick Google search of post offices in Portsmouth will give you a list, find the ones with a PO1-PO4 postcode. But this is just an option. If you can afford it, as a jagaban that I know you are, pay 50% of your school fees and use the school's post code. Please, do not make the mistake of thinking you can work and raise your tuition in a matter of months. You will not. We move!
Read also: UK entry requirements from Nigeria for students
Where do most students live in Portsmouth?
Most students in Portsmouth prefer to live in Southsea, Fratton and North End because they are close to school.
Getting accommodation
You will need to get accommodation even before you arrive!
See I promise, accommodation is important because its so cold out here my brother. Portsmouth is not our fatherland where you can just find a place in a matter of days or find someone to squat with. House search is not for the faint hearted. It sometimes takes weeks before you can find an available place talk less of one that is affordable and meets your standards. Correction please! Abandon any standards you have, they don't exist out here. Out here we do house sharing. For some it might not be a new experience, for this writer it was as strange as apple crumble and custard (you will get the reference soon enough). It is basically the gentrification of 'face me I face you' on a larger scale because everyone is doing it.
Of course, there are the Jagabans (I'm sorry to disrespect you) that can afford to get a studio flat which doesn't cost much.
Portsmouth accommodation cost
An average studio flat in Pompey ranges anywhere from £650-£1000 pcm or about £200 ppw.
Don't be deceived by the terms studio or flat because they are nothing like those beautiful high-rise flats you watch in movies. As I said, abandon all standards because these are basically small rooms with a toilet, bathroom, and kitchen. I will of course give you a general tip when viewing houses online.
If you can see the two ends of the walls in one picture frame, its small.
If you can see both ends of the wall and the bedframes as well, its really small.
If you can see both ends of the wall, the bed frames, and the main door, what you have is a cubicle.
Of course, shared flats are not any better. You rarely get to choose whom your other flatmates are. It could be anyone from a prolific gigolo (no judgments) to an untidy person. But you could be lucky to live in a shared apartment with good flat mates. Shared flats vary in prices depending on the number of rooms, if it is ensuite and if it has the bills included.
Ensuite basically means you get your own bathroom and toilets in that already small cubicle of a room (the English are not very big on space). An average ensuite room ranges from £450pcm – £700pcm or about £125ppw depending really on how modern the houses are and how many rooms are in the flat. If you can, pick modern houses, you will be grateful in the winter.
Location does matter as well.
Beach front flats like Southsea and Gunwharf quay usually are on the high side, but you get a nice cool breeze during the summer. Fratton and North End are where the rest of us stay, on the plus side, there's always a shop around the corner. Locations like commercial road are at the very heart of the city and the student halls while expensive are usually the closest to the school buildings. But don't worry too much, you will enjoy the long walks. There are a bunch of sites that can help in your house search, Rightmove and SpareRoom being the most prominent. Avoid Facebook if you can, scammers exist everywhere.
Now a smart question to ask is what PCM and PPW mean and what is the difference?
Well, PCM stands for Per Calendar Month and what this basically means is you will be charged a flat rate to be paid at a specified date every month, unlike PPW which stands for Price Per Week means each person is charged for every week they are occupying the property. Simple enough. This writer can't honestly say which is better. They both take money out of your account so????.
You will also hear things like guarantor and deposit. Most agents will require a deposit which will usually be the cost of your monthly rent. This deposit is not to be mistaken for your first rent, this is paid to the Deposit Protection Service (DPS), and you should ideally get it back when leaving the property if you do not damage anything in the property. Emphasis on ideally. Basically, breaking a light bulb and could make you lose your deposit.
A guarantor is just, as the name implies, someone to guarantee you will pay your rent and pay it on time. Its not like they don't trust you, they just really don't. A guarantor is ideally someone who is residing in the UK permanently and in some cases your landlord would also want them to be a property owner. Failure to provide said guarantor would oftentimes mean that you have to pay a 6 month advance in rent. So, if you know any distant aunties or uncles in the UK, you may want to call to ask them how their family is before you get to the UK.
Can Nigerian students work in the UK?
Yes, Nigerian students can work in the UK.
You'll need money while living in Portsmouth as a Nigerian student. So it's time to talk about getting a job. One of the advantages of being a seaside town is that Portsmouth is a favorite summer vacation hotspot, as a result most retail stores and companies generally begin recruitment between February and March in anticipation for the summer rush. A wide array of jobs is available especially in retail and customer services. While more technical jobs exist, they do require some level of experience- especially those related to customer service and administrative roles.
Stack your CV appropriately and you will get an opportunity to impress in an interview. Every little skill will count, even if does not look like it. A couple of well-known retail franchises always hiring are Sainsburys, Tesco, KFC and Dominos. During the summer, stores in Gunwharf are always looking for an extra pair of hands, so don't be scared to walk in and ask if there are any vacancies. That said, online recruitment agencies like CV-Library and Totaljobs should have your data in their database. Please my dear brethren, when you finally get that job, read your contracts. I cannot stress enough how important this is.
How many hours can Nigerian students work in UK?
20 hours per week. International students, which includes Nigerian students are allowed to work only 20 hours/ week. That's why I earlier told you not to think that you could afford to pay your school fees with the money you make while working in the UK.
You have your BRP, a home and now a Job. You have now officially joined the teeming population of immigrants in the Portsmouth. It's time to relax and flex. Pompey has a very vibrant social life. OK, not very, but it exists. There are clubs, around the city center. They all play awful music to be honest- basically just loud sounds with no beat. But occasionally you will get a DJ with some sense of rhythm. If clubs are not your thing there is always the beach front which bustles with life during the summer. The one good thing about Portsmouth is, being a relatively small town, flexing is rather on the cheap side. So, welcome to Pompey and I hope your enjoy living in Portsmouth as a Nigerian student.
Read next: Things to pack when traveling to the UK from Nigeria