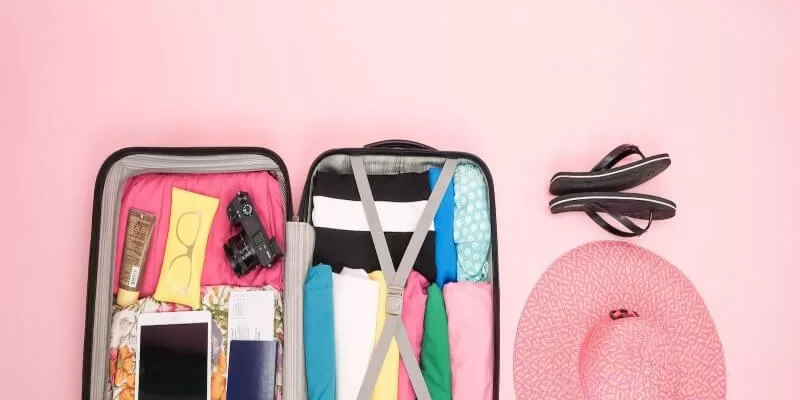 When packing for a trip from Ghana to Canada, it is important that you consider the duration of your stay, purpose of travel and most importantly, the weather in Canada. Keeping these at the back of your mind will help you know how much to pack and what type of clothes to take. Below is a guide on what to pack when travelling from Ghana to Canada. 
What should I pack for a trip to Canada from Ghana?
Documents 
Passport 

Flight ticket

Vaccination, immunisation cards and medical records

Employment letter (if travelling on a work visa)

Admission letter (if travelling as a student)

School transcripts and certificate

Visa or electronic travel authorization (eTA)

Accommodation booking (hotel, AirBnB)

Travel insurance (if you are on a visitor or PR visa, you don't worry about this)

Port of entry letter of introduction- you will get this if you are travelling on a study or work visa.

Letter of invitation- if you are travelling to visit someone, you may be required to show a letter of invitation from your host.

Car insurance record- this could help lower your insurance cost especially if it's 5 years+

Driving licence- for PR visa holders, your Ghana driver's licence will be valid for the first 90 days upon your arrival in Canada. After this period, you must switch to a Canadian driver's licence. If you are on a visitor's visa, you'll need an International Driver's Permit (IDP) as well.
Cosmetics, toiletries and personal grooming items
Toothbrush, toothpaste, dental floss

Hair products such as shampoo, conditioner, hair cream, gel.

Body wash, body cream, moisturiser, toner, facial cleaner, hand sanitizer

Deodorant, roll on, perfume, body spray

Shaving cream, shaving stick, razor, nail clipper, nail file, eyebrow tweezers

Contact lens, contact lens solution

Sanitary pad

Makeup products

Wet wipes, cotton pad

Shower cap, towel

Detergent
Although you can easily get the cosmetics and toiletries you need when you get to Canada, it helps to take some with you. Because of space and size restrictions on gel, aerosols and liquids, buy the travel size of your cosmetics and toiletries that are in those forms.
Electronics and gadgets
Hair clipper

Universal power adapter

Phone, laptop, tablet, ipad, e-reader

Hair dryer and straightener

Chargers
Ghana uses a 230V, 50Hz power supply while Canada uses a 120V, 60Hz power supply. So you'll need a voltage converter or transformer to use the electronic device you bring from Ghana in Canada.
Read also: Things to pack when travelling from Ghana to UK.
Clothes 
Ghana's weather is different from Canada's. Even within Canada, the weather is different. Some parts of Canada are colder than other parts. In the list below, I try to divide the clothes you need to pack when coming to Canada according to the different seasons and time of the year.
Winter (December – February)
During winter, you'll need to layer to stay warm. 
For your base layer you'd need underwear, thermal or fleece-lined long sleeve tops and leggings. 

For the mid/ insulating layer:  sweater, down vest, hoodie

Outer layer: insulated wind-proof and water-resistant winter jacket, shell jacket
Winter accessories such as insulated gloves, scarves, beanies, ear muffs, neck warmer, insulated socks, etc. 
Footwear
The ideal footwear to wear during winter is a snow boot because they have good traction and insulated insides. Sneakers also serve. When buying sneakers, check the sole to know if it has good traction. Not all sneakers have good traction. 
Spring (March – May) and Fall (September – November)
Spring and fall are transitioning seasons. In spring, the weather is transitioning from cold to warm, while in fall, the weather is transitioning from hot/warm to cold. It gets both cold and warm during these seasons. 
You will need to layer up on some days during these seasons, but you can cut down the layers to just the base and mid layers. So pack underwear, sweaters, hoodie, leggings, long-sleeved shirts, waterproof  jacket or raincoat, walking shoes, sneakers, when travelling to Canada during spring or fall.
S
ummer (June – August)
During summer, the weather is warm. You can compare the weather during summer to the weather in Ghana. So you can wear the clothes you wear in Ghana in Canada during summer. Pack light clothes such as t-shirts, shorts, gowns, swimwear, shirts, etc. 
Clothes, footwear and accessories to pack irrespective of the weather
Dress shirt, jacket, blazers, formal trousers, casual trousers, joggers, skirts, gowns, native wear, long and short-sleeve shirt.

Underwear, sleep wear, 

Sun glasses, scarves, belts, socks.

Sneakers, walking shoes, sandals, slippers, flip flops, corporate shoes.
If you plan to engage in outdoor activities, consider packing hiking, camping, or sporting gear.
For your winter clothing and accessories, I recommend you buy only one or, at most, two items of each. This is because the winter clothing and accessories you'll get in Ghana won't be good enough to help you fight Canada's biting cold. It's always better to wait till you get to Canada before you shop properly for winter clothes.
Alternatively, if you know anyone coming to Ghana from Canada, UK or any other country that has a similar climate to Canada, then you can tell the person to buy winter clothes for you.
Food stuff
This article will not be complete if I don't talk about food items you can pack when travelling from Ghana to Canada😅. Let me tell you something. When you are far away from home, there are times when you'll feel down and all you'll need is a plate of your native food to raise your spirits. Below are some food stuff to bring with you.
Dried leaves such as kontomire, bitter leaf, jute mallow (ayoyo), millet leaves

Spices like shito (wrap very well so it doesn't spill and soil your clothes), curry, thyme, anise seed, rosemary, nutmeg, fermented locust beans, esoro wisa, cloves, fennel seed, maggi, chilli powder, powdered fish, powdered garlic and ginger, etc.

Garri, yam flour, beans flour, plantain flour, millet flour, cassava flour, tom brown

Fish and seafood such as dry shrimps, dried crayfish, dried catfish, salted fish (koobi), dry clams.

Rice, beans

Nuts for snacking on- groundnut, tiger nuts, cashew nut, etc.

Peanut butter (for your peanut butter soup), akatoa, etc.
Read also: What food cannot be taken into Canada?
You can find most of these food items in African stores in Canada, so don't be worried if you exhaust the ones you came with.
Other things to pack when travelling from Ghana to Canada include cash (Canadian dollars), snacks, books to read on the plane, wigs, hair extensions, travel pillow, bed linen, toiletry bag, basic first aid kit supplies such as adhesive bandage, pain relievers, balm, prescribed medication and a copy of the prescription. Travel with enough prescribed medication to last for 2-3 months- if needed.
Questions people also asked
What is not allowed in carry-on luggage Canada?
Sharp objects like scissors, knives, box cutter, drills, etc.

Sports equipment like golf clubs, baseball bat, hockey stick

Liquid, gel and aerosols over 100ml
What to do before coming to Canada
Obtain the necessary travel document

Secure an accommodation

Inform your bank through your account officer of your intended trip. Also, confirm with your bank that the credit/ debit card you intend to travel with works abroad. 

Get your travel and healthcare insurance, if applicable

Sort your transportation. If someone isn't coming to pick you from the airport, how will you get home or to the accommodation you booked when you get to Canada? Uber? Train? Bus?
How much money can I bring to Canada per person?
According to Canada Border Services Agency, you can bring any amount of money to Canada. However, if it is up to $10,000 CAD (whether in cash or any other financial instrument), you must declare it at customs when you arrive in Canada.
Do you have any questions related to what to pack when traveling from Ghana to Canada? You can ask in the comments section below.